Therianthropy
Different Types of Therians
There are many different types of Therians; the most common are the ones who Shift into one animal. There are people who believe they are Therians and don't Shift at all. Some even believe they can Shift into more then one different species.
Standard Therian:
Someone who only Shifts into one animal, or one type of animal.
Polytherian:
Someone who believes they can Shift into more then one animal, often two or three.
Nonshifting Therian:
A Therian who has memories of being an animal, but cannot Shift at all.
Contherian:
Someone who believes he or she is constantly Shifted.
The Therianthropy Symbol
There really is no established Therian symbol. However, there is a symbol that is generally accepted as the Therian symbol.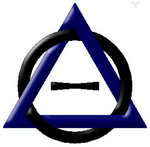 "The Therian Symbol was created by members on The Werelist a while ago. The intent was to make a universal therian symbol for the entire community. Most of them adapted the basic design (a Greek theta symbol interwoven with a delta) into a unique charm with personal significance to them. Those therians began calling the symbol by a specific name, which seems to fit its Greek origins- therios."
-
Therian Wiki
and also,
"The Theta Delta is believed to have origionated from an early incarnation of The Werelist, where it was decided on in a forum topic that revolved around the creation of such a symbol. The Theta Delta was created, Theta, being a T, used to represent the word "Therian" and Delta for a change, as in a shift."-Therian Wiki
Some Therians prefer to use their own symbol and others prefer no symbol at all. All in all it's your choice to pick a symbol that defines Therianthropy to you.
Otherkin and Therians
Therians are earthen, anything that ranges from a bug to a blue whale. Extinct animals like mammoths, sabertooths, and dinosaurs can also be therians. Anything that lives or has lived on earth is what therians associate themselves with. Otherkin are beyond earth creatures, including mythical creatures. Otherkin claim to be dragons, fairys, griffins, aliens, etc.
Therians & Spirit borrowing
Something that confuses people is the practice of spiritual shapeshifting also known as spirit borrowing. Shamanism is known for this, they use their power animal or totem for help. These people can mentally shift into an animal's spirit to learn a lesson, or use the animals' power. This is different than Therianthropy because therians feel they are the animal, and spirit borrowing is asking to be lent the power of an animal (which normally induces similar feelings to therianthropy, feeling like the animal and such). Therians can practice spiritual shape shifting too, but if they are trying to borrow the spirit or an animal, it can sometimes prove a little more difficult. For example, I am a wolf therian, I do not have to borrow a wolf spirit, but if I wanted to shift into another animal (like a cat or bird) I'd have to borrow that spirit and it could be a bit more difficult. For Therians their inner animal is who they are, and people who practice spiritual shapeshifting just borrow spirits to Shift and learn lessons. It's a tough subject to explain, but if you study more into shamanism you will see the difference.
"Spiritual" and "Psychological" Therianthropy
Although this is based on spiritual therianthropy, there are people who believe it is more of a psychological matter then spiritual.
Spiritual therianthropes believe that they are a therianthrope because of a spiritual reason, having to do with spirits/souls, reincarnation, and the astral world.
Psychological therianthropes believe they are this way because of some kind of psychological incident that was damaging or just the complexity of the human brain in general. Most people who believe that therianthropy is a psychological reason have their own explanation why.
Common Theories of Spiritual Therians
Here are some theories of spiritual therianthropy.
Soul Occupation: The therian believe his body shares multiple souls in one body.
Reincarnation: One of the most popular beliefs, the person believes in a past life he has carried the traits or memories over to the next life.
Misplaced Soul: The soul was placed in the wrong physical body.
Walk-in Event: The soul of another being switched place with the previous soul who occupied the body.
Psychic Connection: A person at a young age developed a close bond to an animal and has spiritually fused. They remain therian even after the bond is broken. Soul Pieces: Pieces of other souls fused themselves into one body.
Common Theories of psychological Therians
Here are some theories of psychological therianthropy
Identity Disorder Caused by: Early developmental issues, early childhood influences, Stress & Troubles, and Societal Demands.
Genetics: This means that the person believes he or she is a therian because of a gene that works similar to mental illness genetics.
Mental: The person so badly wants to be an animal that he tricks himself into believing that he is.
Mental Disorder: Some therians believe they are victims of mental disorders such as schizophrenia.
Traumatic Event: A traumatic event has left the person feeling this way.
Complexity Of Human Mind: The brain is capable of extraordinary things under certain circumstances, some believe that's what it is.
Both Spiritual & Psychological
There are people who believe it is both a spiritual and a Psychological situation. For example, some believe that having identity crises allows them to spiritually connect with the animal.
Therians Vs Furries
Therians are often confused for furries, however there is a huge difference between the two.
Furries are people who are fans of antrophomorphic creatures.
Therians are people who, in a sense "are" the animal and have experiences of shifting or changes of human thought process to that of their theriotype.
It is not too common but some therians join furry communities and get involved with the furry fandom. Therians are not likely to wear costumes but don't be surprised to find some wearing tails or masks.
Therianthropy & Religion
Religion has no significance to therianthropy; they are two completely different subjects. But do not be alarmed if you find therians who gladly incorporate therianthropy into their religions or spirituality.