Therianthropy
The Therianthropy Symbol
There really is no established Therian symbol. However, there is a symbol that is generally accepted as the Therian symbol.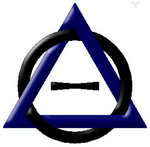 "The Therian Symbol was created by members on The Werelist a while ago. The intent was to make a universal therian symbol for the entire community. Most of them adapted the basic design (a Greek theta symbol interwoven with a delta) into a unique charm with personal significance to them. Those therians began calling the symbol by a specific name, which seems to fit its Greek origins- therios."
-
Therian Wiki
and also,
"The Theta Delta is believed to have origionated from an early incarnation of The Werelist, where it was decided on in a forum topic that revolved around the creation of such a symbol. The Theta Delta was created, Theta, being a T, used to represent the word "Therian" and Delta for a change, as in a shift."-Therian Wiki
Some Therians prefer to use their own symbol and others prefer no symbol at all. All in all it's your choice to pick a symbol that defines Therianthropy to you.
Therian Forms
Often times Therians can Shift into different forms; Some prefer to stick to one and other tends to Shift between forms. The image underneath shows a scale of where you are mentally and how you see yourself spiritually, red represents the human or physical side, and the blue represents your Therian side. The green dot is where you are at in the form. We get these forms (other then fully feral) when our physical conscience combines with our Therian side during Shifts.

There can be many different forms, but these are the most known, and these are the forms used frequently throughout history. Many of you are familiar with the gods and goddesses of Egypt, in which the human and Therian headed can be found.
Example Images
Feral Form - Anthromorphic - Anthro-Alt - Human headed - Animal Headed
---
Fully Feral – This is the most common form of Therianthropy. The animal is in its fully natural form.


Anthromorphic – In this form, the figure is entirely human except for the head, hands, feet, and they are gifted with a tail. Anthro have Animal-like appendages, and are more like Animals that walk Upright, like humans.


Anthro-Alt- This is a little more animalistic then the ordinairy Anthro form.


Human Headed- In this form the body is entirely animal except for the head.


Animal Headed- Animal Headed are like Humans, with human appendages, (hands, ankles and feet) but they have animal heads, sometimes some fur, and sometimes a tail, or wings.


Different Types of Therians
There are many different types of Therians; the most common are the ones who Shift into one animal. There are people who believe they are Therians and don't Shift at all. Some even believe they can Shift into more then one different species. Whatever the case, there are many different types of Shifters, and only a few are well known or common;
Standard Therian:
Someone who only Shifts into one animal, or one type of animal.
PolyTherian:
Someone who believes they can Shift into more then one animal, often two or three.
AnTherians:
Animals that shift into other animals or humans, they experiance many of the same things we do, and can be polytherians, or nonshifting Therians themselves.
Nonshifting Therian:
A Therian who has memories of being an animal, but cannot Shift at all.
Con-Therian:
Someone who believes he or she is constantly Shifted.
Otherkins and Therians
Therians are earthen animals, anything that ranges from a bug to a blue whale. Extinct animals like mammoths, sabertooths, and dinosaurs can also be Therians. Otherkin are mythical beasts like dragons, griffins, and anything with a vast expansion of history. To some people Otherkins can be more then just a myth with a huge history; it can also be things that have little history, but basically Otherkin is a mythic creature.
One thing that is WIDLY mistaken as an otherkin is a vampyre. There is a correction that has to be made. Vampyres are not a form of otherkin. To be a vampyre is to be a human who practices vampyrism. Just like how someone is a witch if they practice withcraft. Vampyrism is not a species of being, it is a practice. Just because you like blood and hate sunlight does not make you non human. Although, another legend of vampire refers to people who have died and returned to life; they are immortal and not able to die by natural causes. So unless you're heart doesn't beat and your reanimated forever, or if you don't practice vampyrism, then your not a vampire OR a vampyre.
Therians & Spirit borrowing
Something that confuses people is the practice of spiritual shapeshifting also known as spirit borrowing. These are often people who practice shamanism or druidism. These people tend to mentally shift into an animal's spirit to learn a lesson, or use the animals power. This is different than Therianthropy because therians feel they are the animal, and spirit borrowing is asking to be lent the power of an animal (which normally enduces similiar feelings to therianthropy, feeling like the animal and such). Therians can practice spiritual shape shifting too, but if they are trying to borrow the spirit or an animal, it can sometimes prove a little more difficult. For example, I am a wolf Therian, I do not have to borrow a wolf spirit, but if I wanted to shift into another animal (like a cat or bird) I'd have to borrow that spirit and it could be a bit more difficult. For Therians their inner animal is who they are, and people who practice spiritual shapeshifting just borrow spirits to Shift and learn lessons. It's a tough subject to explain, but if you study more into shamanism you will see the difference.
"Spiritual" and "Logical" Therianthropy
Although this site is based on spiritual therianthropy (which is the most commonly believed) there are people who believe it is more of a logical matter then spiritual.
Spiritual therianthropy is the most common among the therian society. They believe that they are a therianthrope because of a spiritual reason, having to do with spirits/souls, reincarnation, and the astral world.
Logical therianthropy is more of a scientific view of therianthropy. Those who believe they are this way because of some kind of psychological incident that was damaging or just the complexity of the human brain in general. Every person who believes that therianthropy is a logical thing has their own reason and story why.
Some people believe that their therianthopy is both logical and spiritual. …More coming soon.
Therians Vs Furries
Therians are often confused for furries. However, there is a huge difference to separate the two subjects.
Furries are people who wish to be the animal, or dress like an animal or made up animal character for fun and fad.
Therians are people who, in a sense, "are" the animal and have voluntary and involuntary shifts.

Most of the things in the furry category have to do with sexual fetishes (which to most therians is a bit offending). Most Furries enjoy wearing cartoon styled animal costumes. It is not likely to see therians wear costumes.